Blacks and Whites' Carnival is the greatest festival you've never heard of.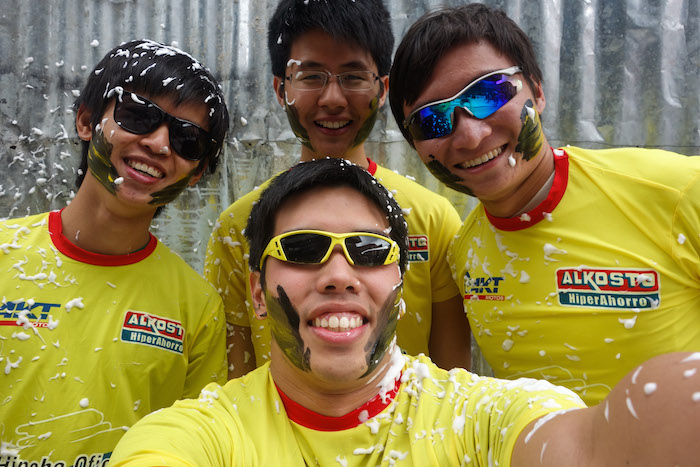 It's January 2014. I'm in Colombia.

And I think I've found the world's most underhyped festival.

Welcome to the the Blacks and Whites' Carnival.
---
The scene is one of absolute chaos, an all-out war.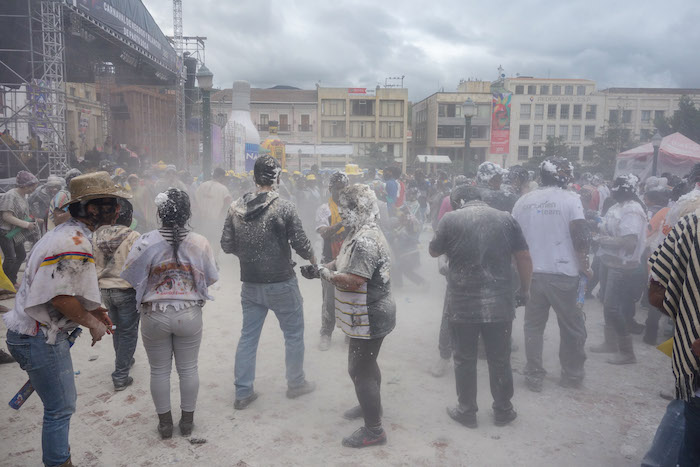 Small armies prowl the streets armed with canisters of spray foam and kilos of talcum powder.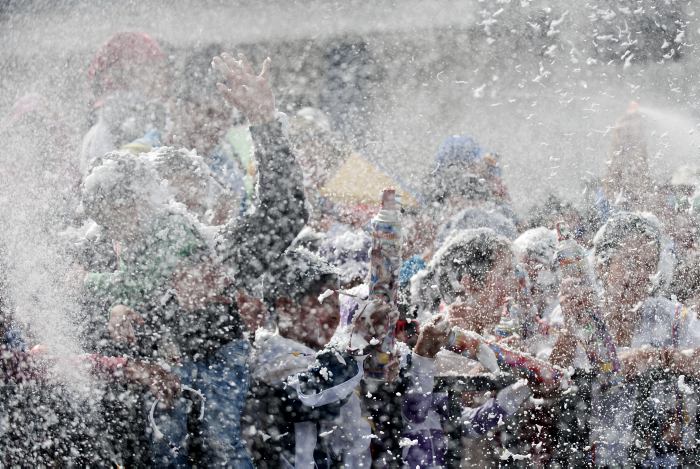 No one is safe, not even total strangers; anyone that steps outside their door is fair game. It's a serious affair.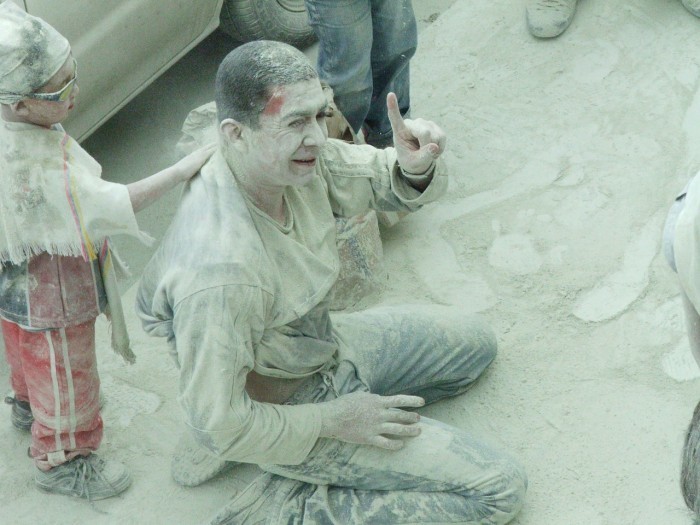 And the best part? There is hardly a tourist in sight.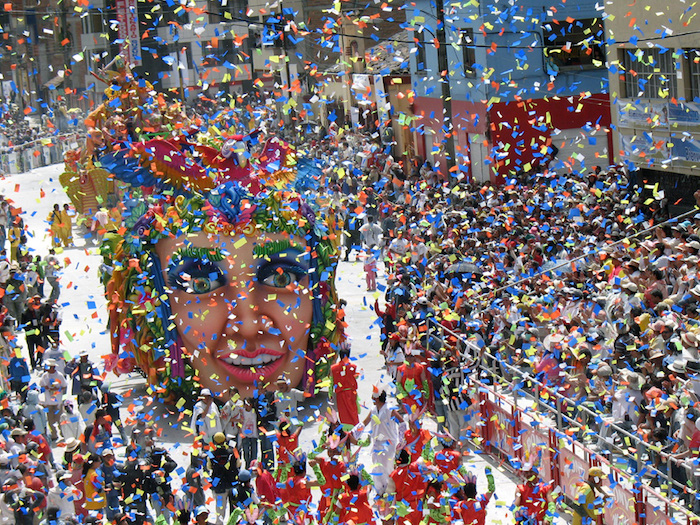 Follow me
Keep up with my latest adventures
For a week in January, the sleepy town of Pasto, Colombia, is transformed into a spectacular urban playground. Known locally as Carnaval de Negros y Blancos, the city goes wild and unleashes all the joy it has bottled up all year.
The celebration dates back to the time of Spanish rule, when slaves were allowed to party every year on January 5th, with their masters showing approval by painting their faces black. In turn, the slaves painted their faces white the following day. The piebald tradition is faithfully maintained till this day.
It's difficult to describe the Blacks and Whites' Carnival. It's the best of Holi, La Tomatina and Rio Carnaval all rolled into one frisky, dazzling festival. The festival has been declared by UNESCO as an Intangible Cultural Heritage of Humanity.
---
January 5th is Blacks' Day.
The agenda of the day? Get everyone as black as possible.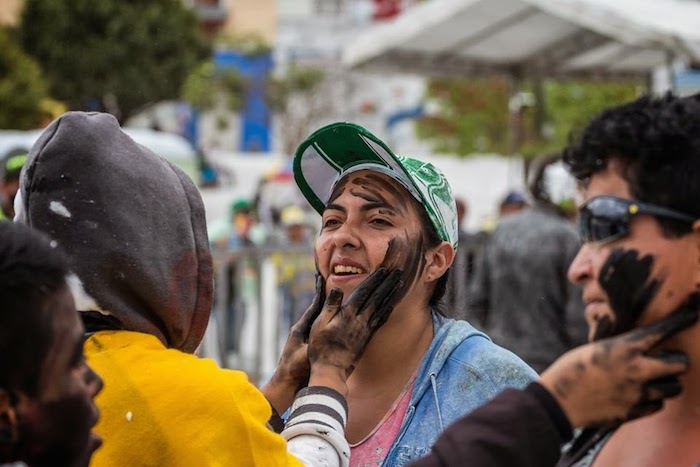 Strangers will walk up to you and smear you with black paint.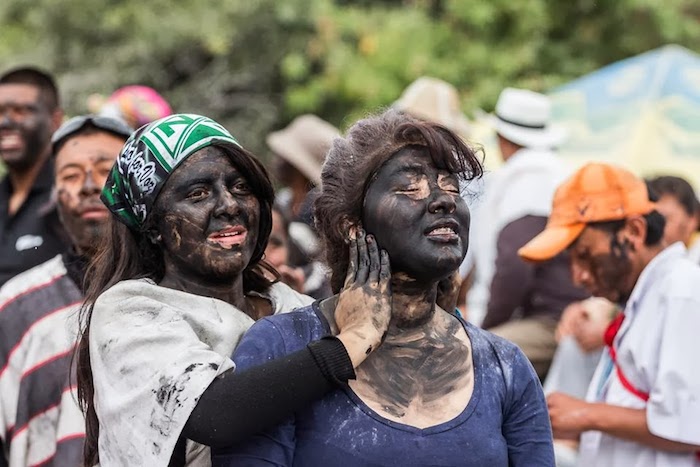 After about two minutes on the street, you look something like this.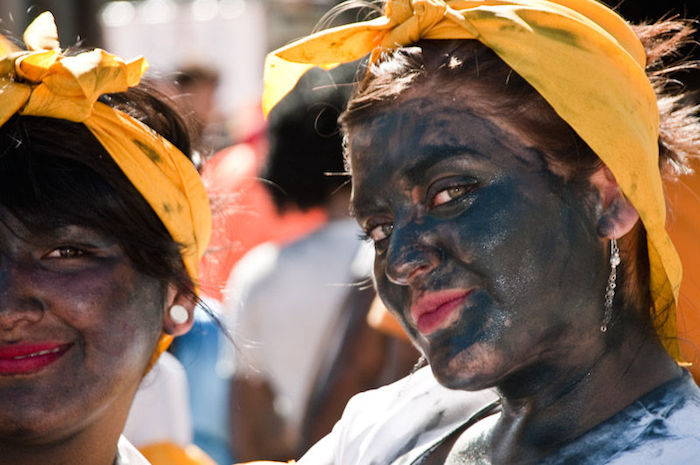 ---
The following day is Whites' Day.
The streets erupt with foam battles between strangers.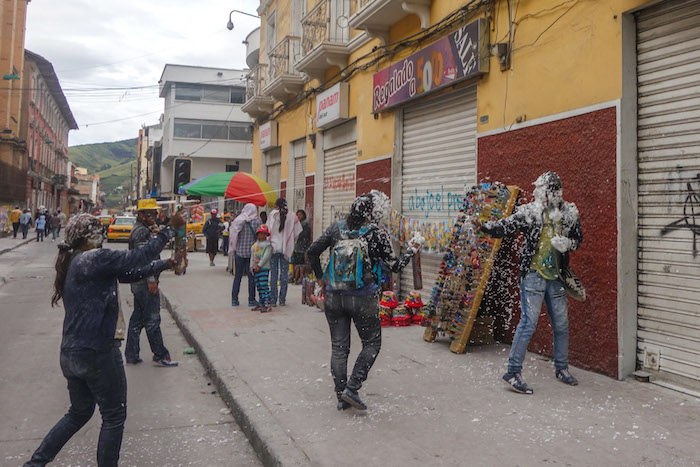 Everything including chalk, talc, flour or any other substance even vaguely white in color becomes ammunition. And I don't use the term "ammunition" lightly.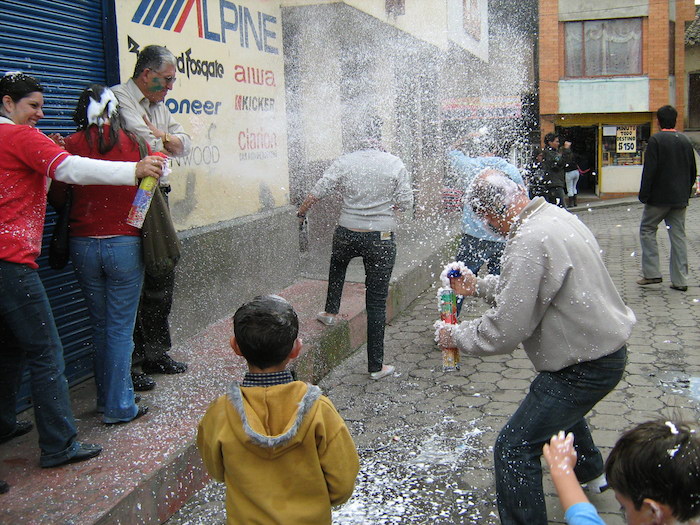 No one is safe. No one is a stranger. Anyone that steps outside their door is automatically game for attack. You'll have to be on the alert for sudden attacks. Kids, teens, adults, and grandparents all join in the madness, ambushing strangers in mountains of foam.
I found myself running away from little kids who just don't know when to quit.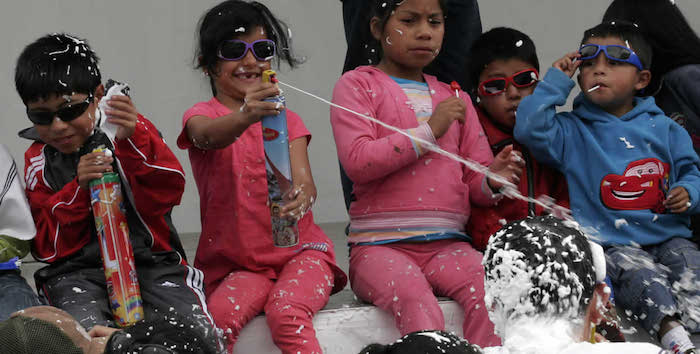 Not even policemen are immune.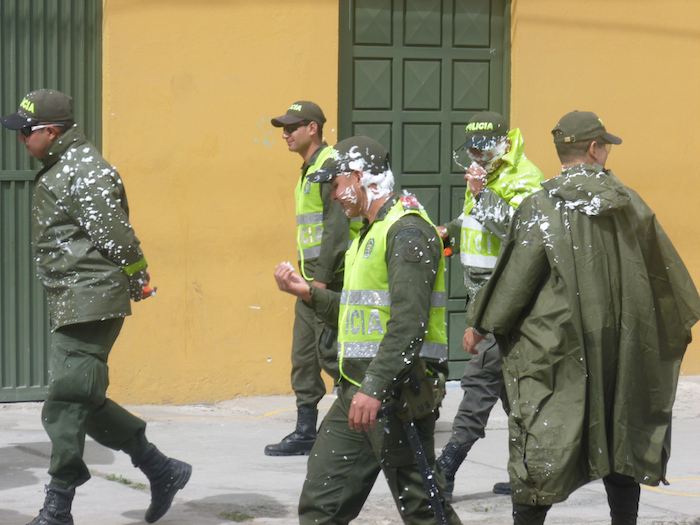 Of course, I decided to join in the fun.
First, I had to get myself some ridiculous-looking eye protection.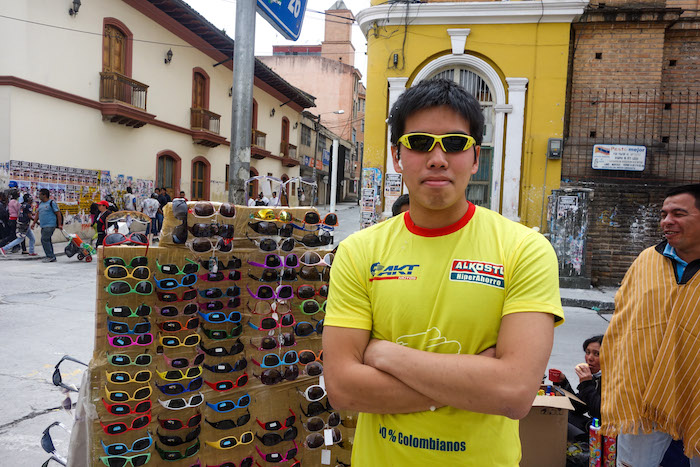 Then, we needed to blend in. So we wore t-shirts that said "100% Colombianos".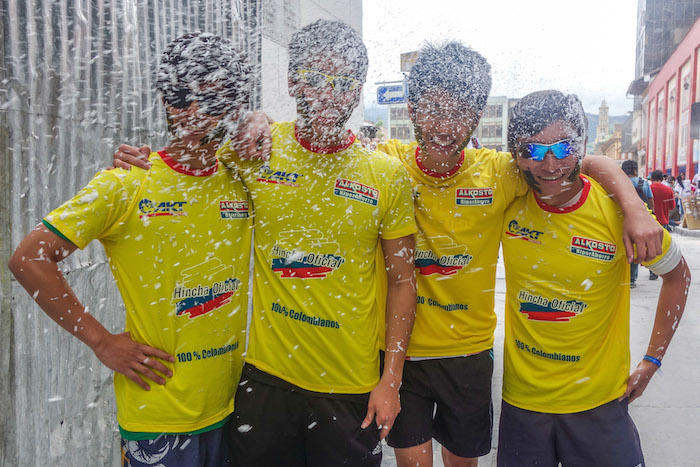 Entering the battleground of Plaza De Nariño, we realized that didn't exactly help.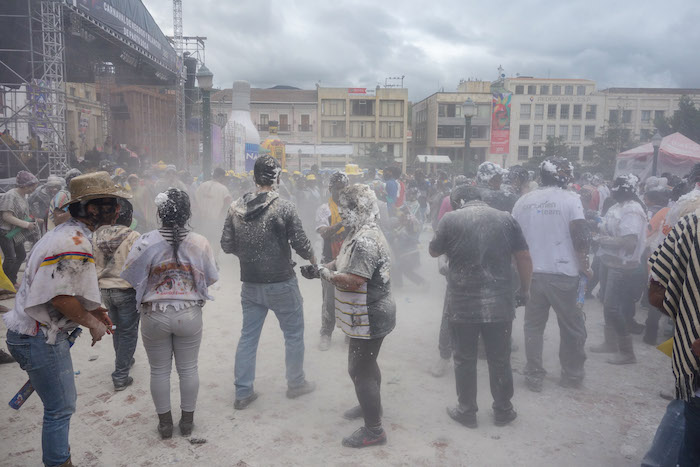 Almost immediately, we were drawn into a battle.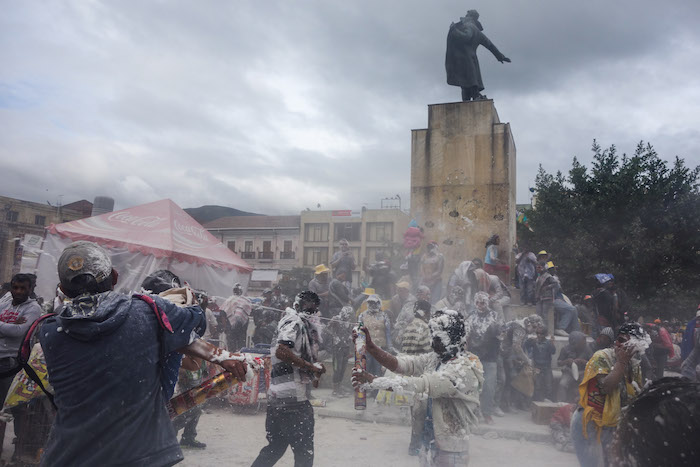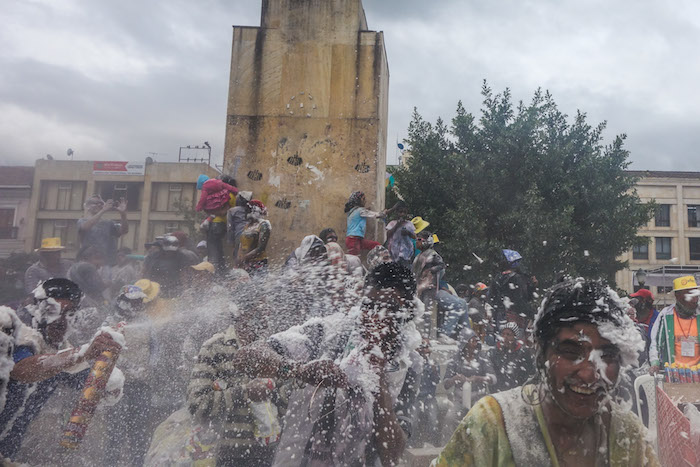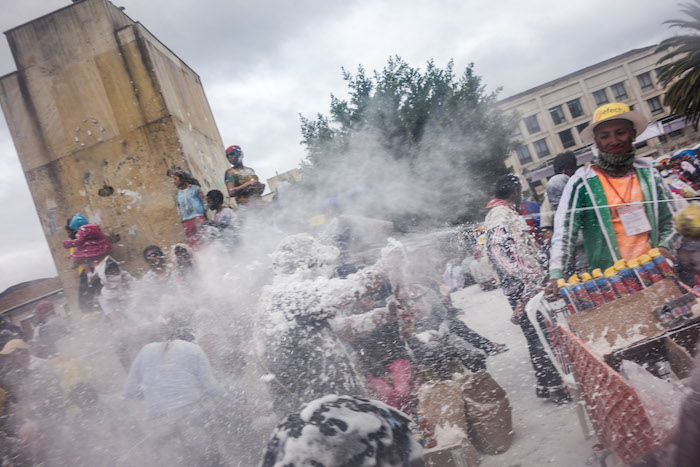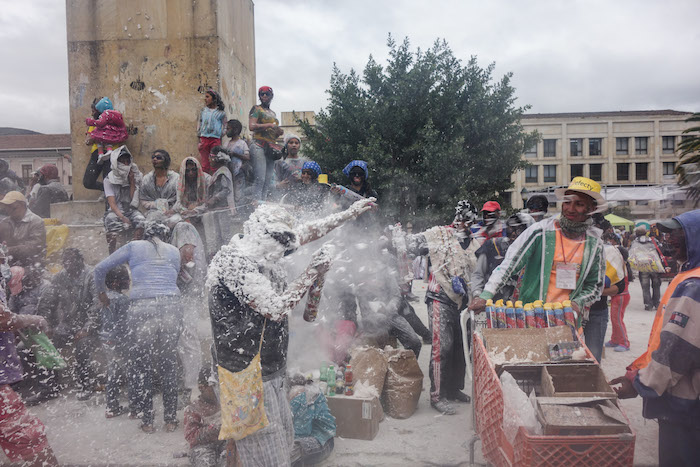 Emerging victorious from battle.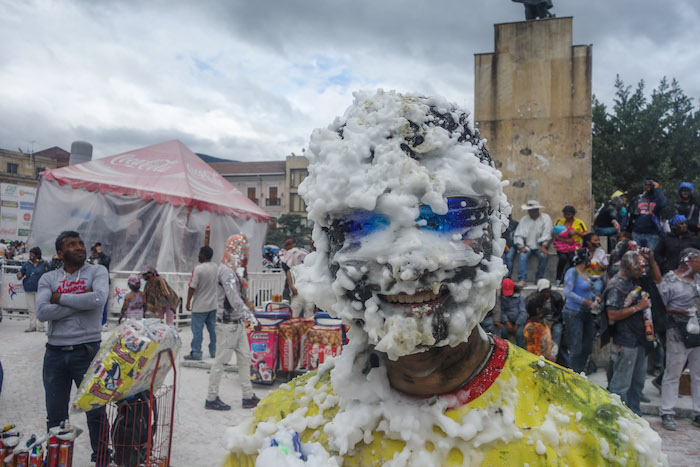 People are going to make a cake on your face.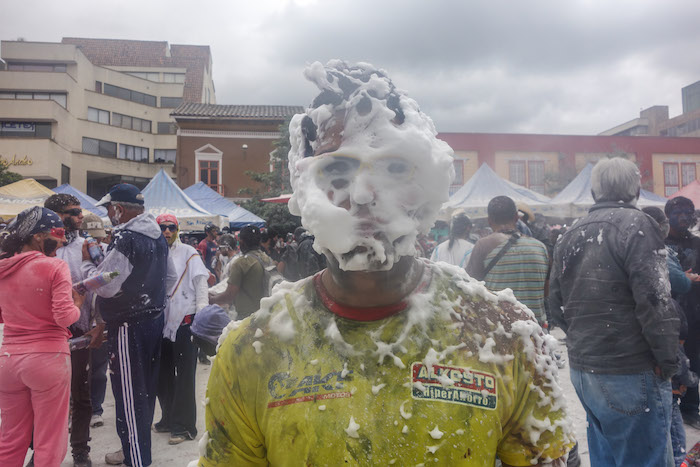 And no one gives a shit that you're holding a camera.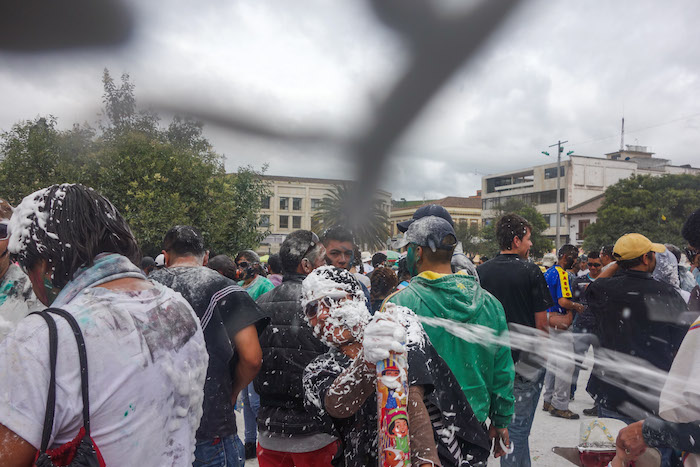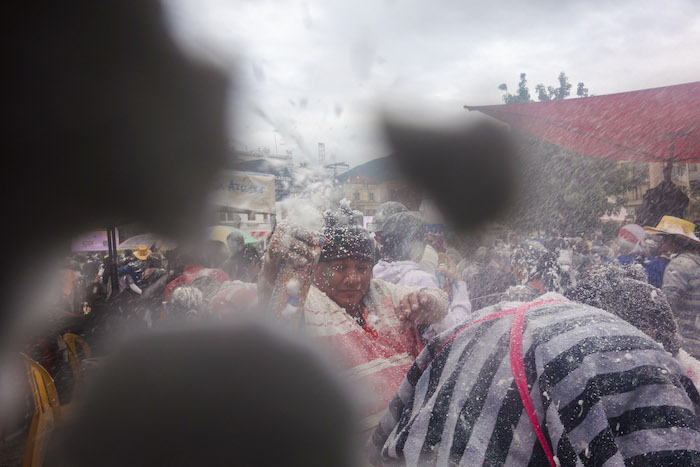 It may all sound brutal... because it really is. Your eyes will sting from the foam, your lungs will struggle against the powder, and there will be talc everywhere. A few days after, I was still picking chunks of white out from my ears.
I'm sure this guy was, too.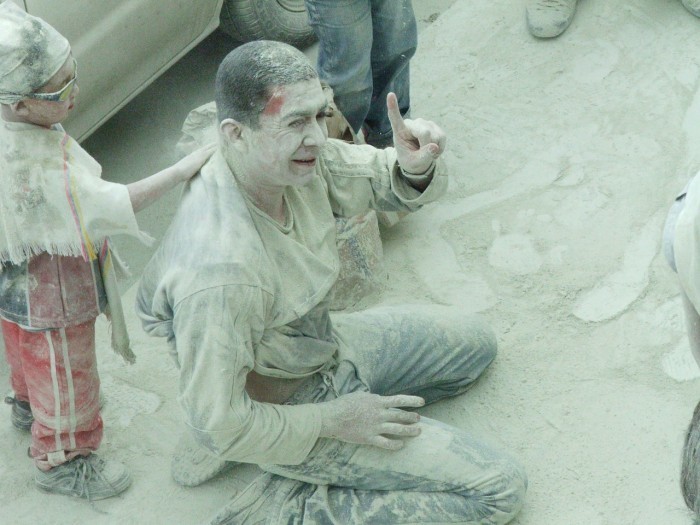 ---
After the battles come the street parades—some of the biggest, noisiest and most colorful anywhere in the world.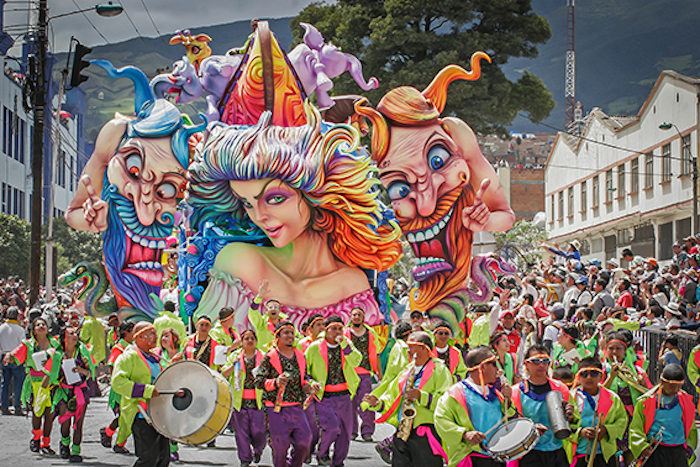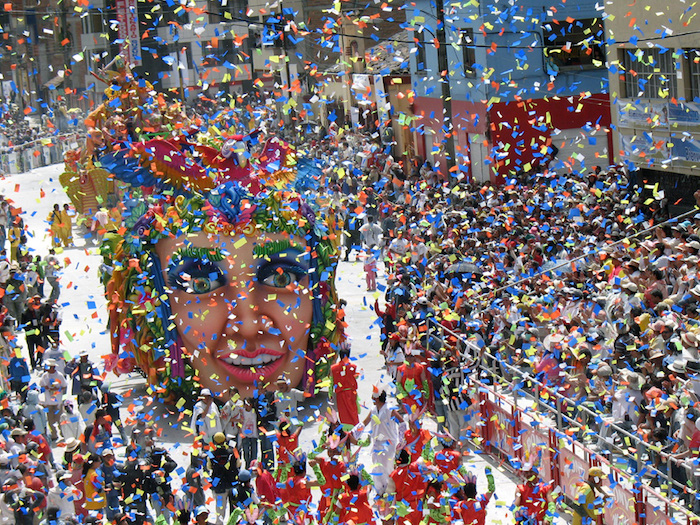 The locals, or Pastusos, are proud of their festival and are incredibly welcoming to the rare foreigner who shows up.
We appeared to be the only Asians present at the festival.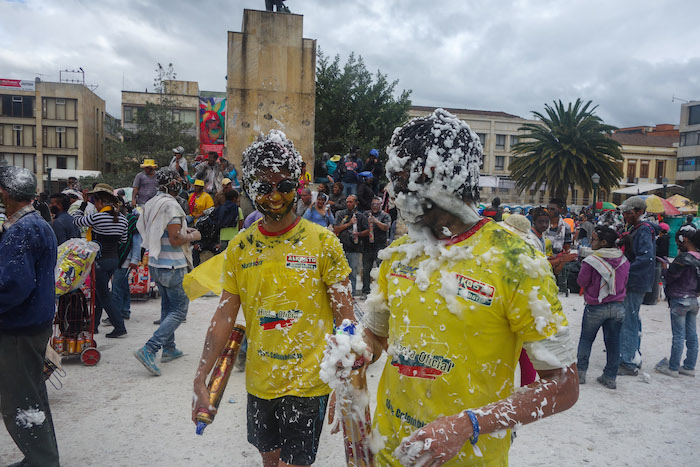 So, we pretended to be Asian TV superstars.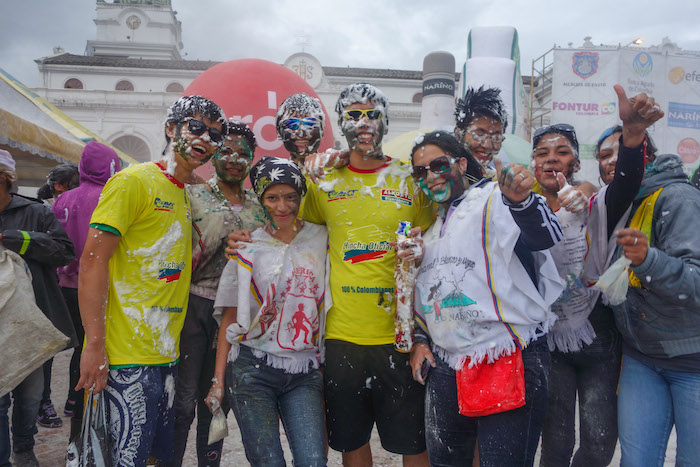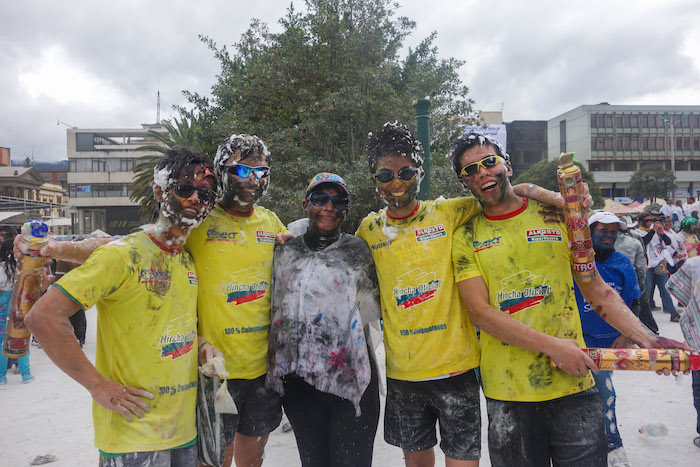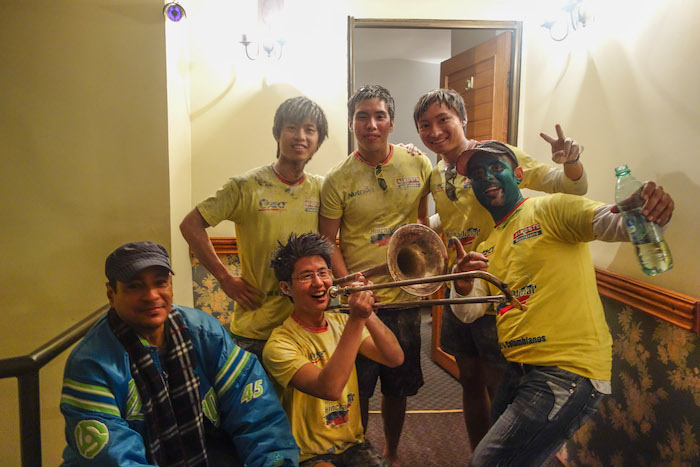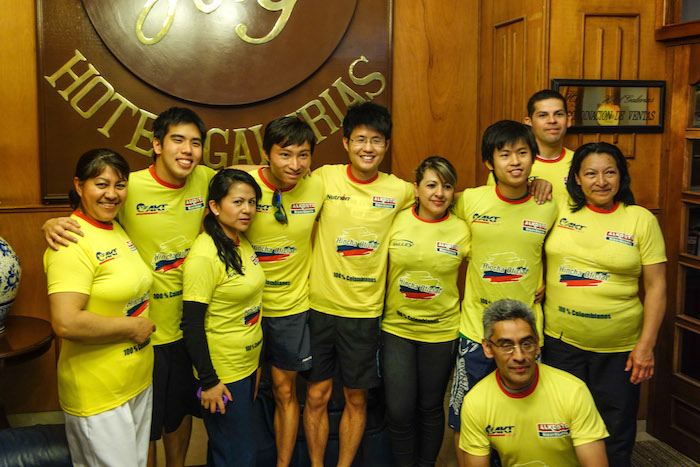 Step aside, Jay Chou.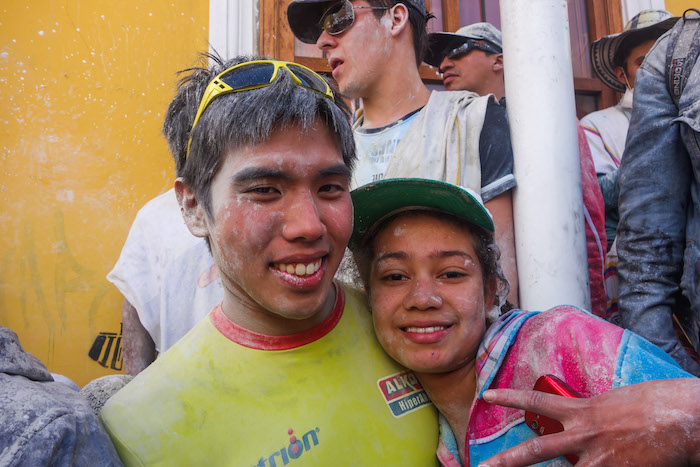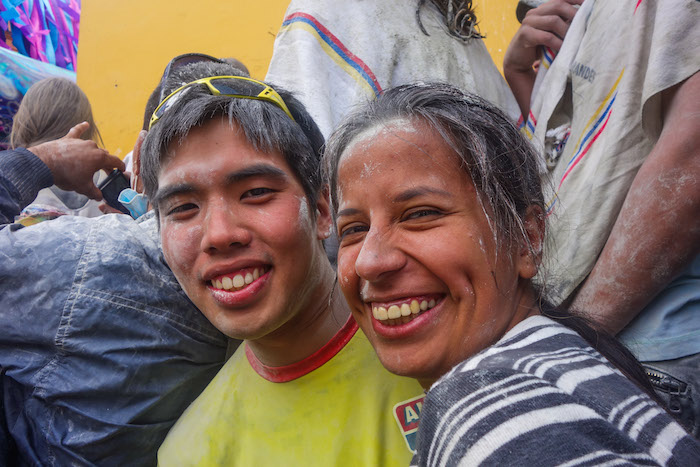 Attending the craziness of the Blacks and Whites' Festival was by far the best experience I had in Colombia. It's utter pandemonium, and it brings out a playful, childish side of yourself that you never knew existed.
There's something hilarious and liberating about dousing a complete stranger with party foam. I miss stalking the streets, a flour bomb in hand, half-hoping for a gush of foam to blast from around the corner.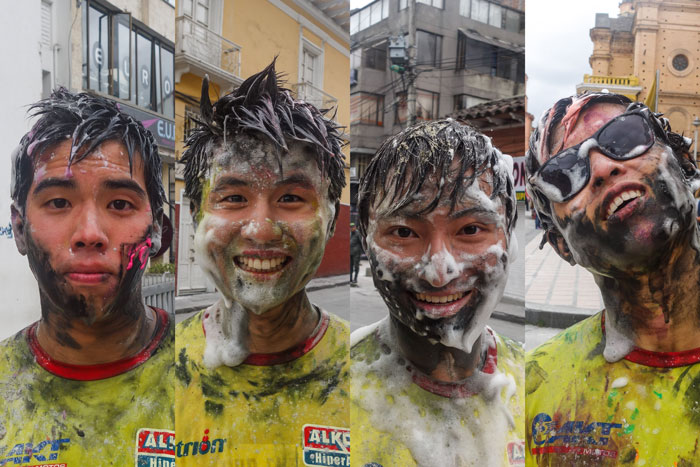 ---
How much did it cost me?
$201 for 3 days.
| How much? | For what? |
| --- | --- |
| $44 | Bus from Bogota to Cali (round-trip) |
| $36 | Bus from Cali to Pasto (round-trip) |
| $97 | Hotel for 3 nights |
| $4 | Taxi rides within Pasto |
| $5 | Weapons (foam canisters & bags of powder) |
| $15 | Food for 3 days |
Prices are per person.
Of course, don't just fly in for a 3-day trip. After the festival, explore the rest of Colombia or head down to Ipiales to see the stunning Las Lajas Sanctuary.