Fogo Island Inn is unlike any other hotel you've been.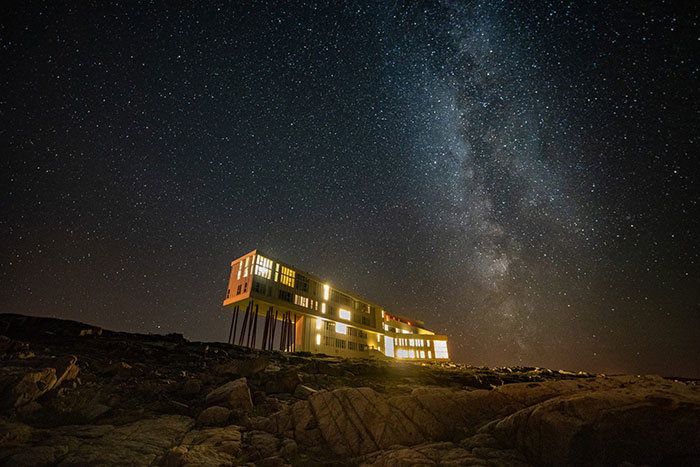 Ah yes, the one million star hotel.
You'll find Fogo Island Inn off the wild and rugged coast of Newfoundland. Windswept, rocky and remote, Fogo Island is often described by the locals as 'far away from far away'.
The decidedly 21st-century hotel has the most unexpected setting: a quiet 18th-century fishing village that almost seems removed from the modern world.
The hotel itself is a gorgeous building that juts out in juxtaposition to the rocky outcroppings of the landscape.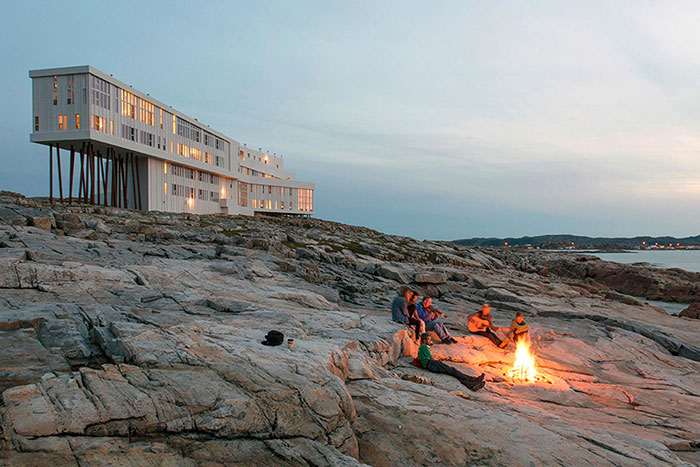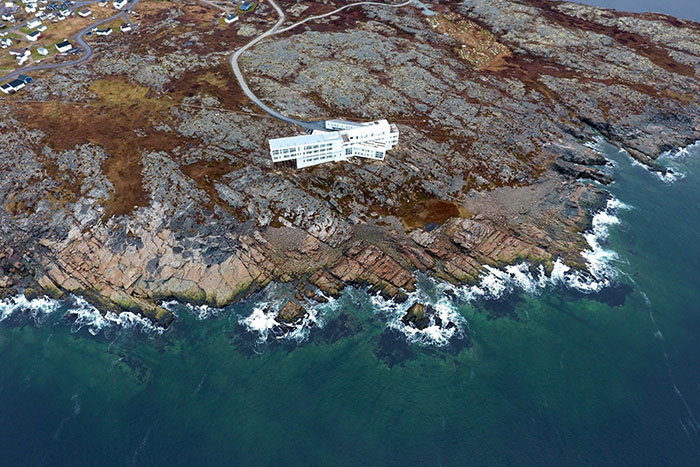 Looking out at the wind-whipped North Atlantic from Fogo Island, you feel like you're on the end of the world: just you, maybe some icebergs, and utter silence.
So perhaps it's not surprising that the Flat Earth Society believes that Fogo Island is one of the four corners of the Earth.
As you'd expect, staying at the Fogo Island Inn isn't cheap at all. A night at the inn is definitely a splurge. Rates start at about C$1,975 a night, with a two-night minimum (and three-night from June to September).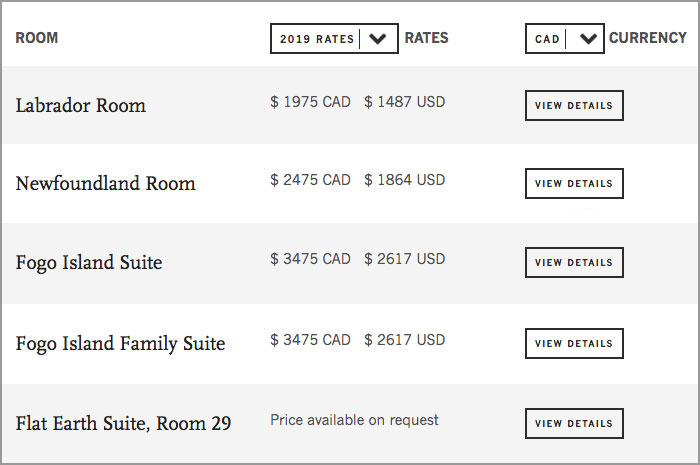 The hotel includes three fine-dining meals a day and many activities, which could make the price tag worth it. To say my expectations were high is like saying icebergs are kind of cold.
In September 2017, I traveled across Canada to Newfoundland...
So I decided to book a stay at the Fogo Island Inn.
This is my trip in photos.
Follow me
Keep up with my latest adventures
It's hard to understate how remote Fogo Island is.
Newfoundland sits off the east coast of Canada. It's so far east that it has its own time zone—a half an hour later than anywhere else in North America.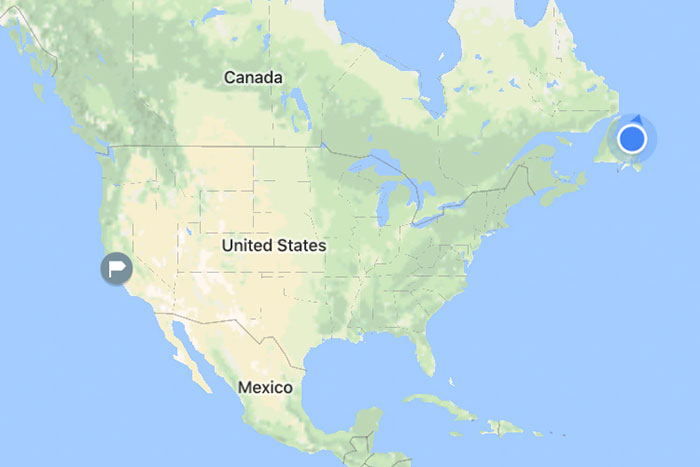 The hotel is located on an island off an island, perched far out into the Atlantic Ocean.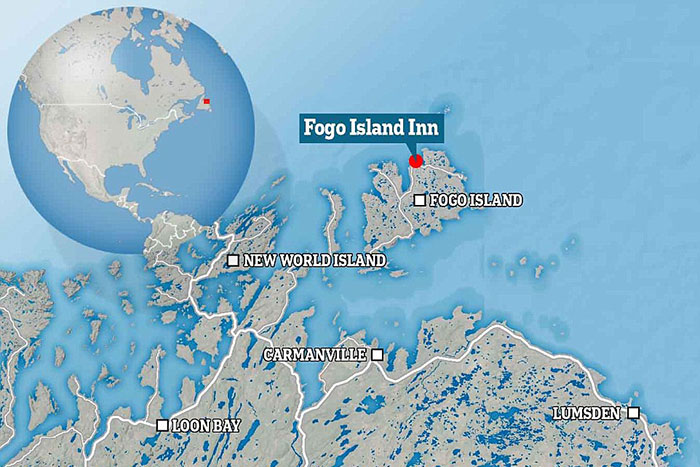 It takes 3 flights, 1 car rental, and 1 ferry to get there if you live in nearby USA.
Flights will get you only as far as Gander. From there, it's still 3 hours by rental car & ferry to the hotel. Alternatively, you can take a helicopter for $1,700 one-way.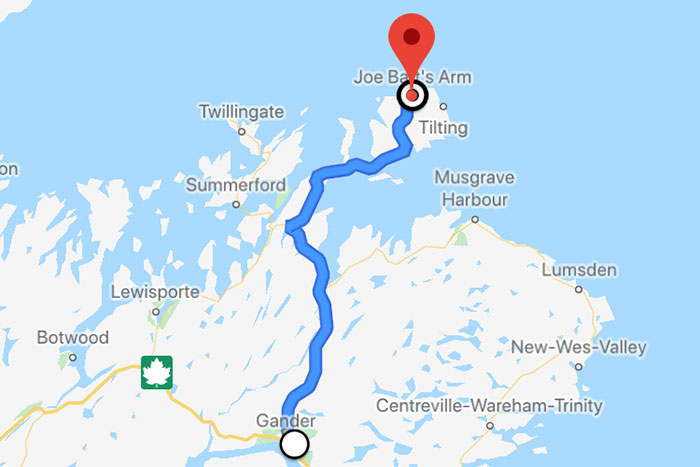 Fun fact:
Gander International Airport was famous for being the start & end point for the first transatlantic flights. If you were going to attempt to fly across the Atlantic, it made sense to start as far east as possible.
There are no signs that lead to Fogo Island Inn. It just appears out of nowhere and it's unlike anything I've ever seen.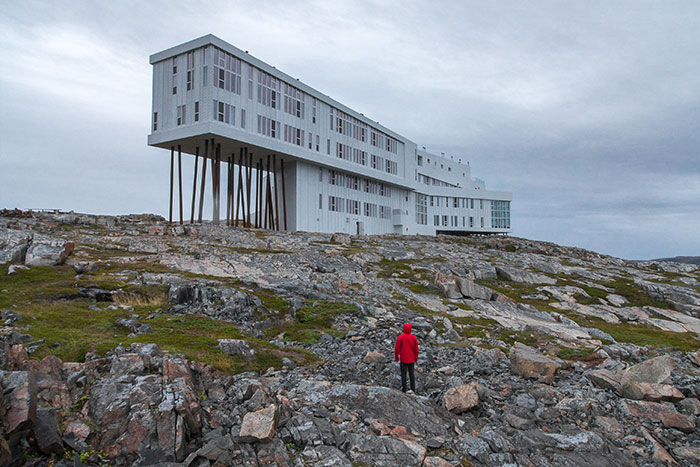 The setting is exceptionally breathtaking. The hotel sits on a rock that looks over nothing but miles of the Atlantic Ocean.
No matter how many photographs you've seen of the hotel, you can't anticipate the warmth that greets you as you walk in.
The moment I stepped inside, the reception already knew my name.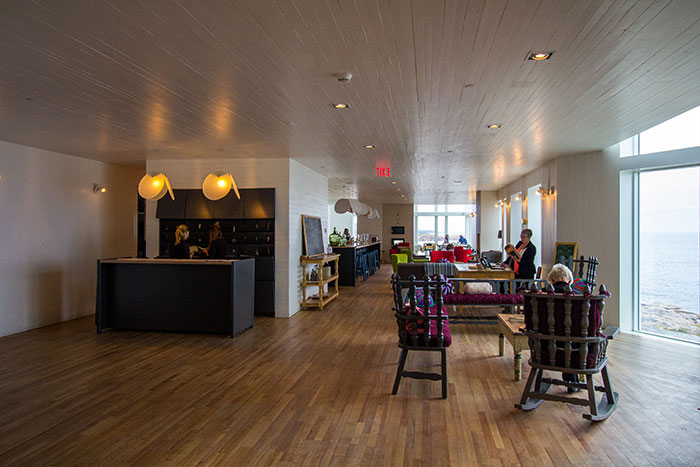 Fogo Island Inn feels more like a home, instead of a hotel.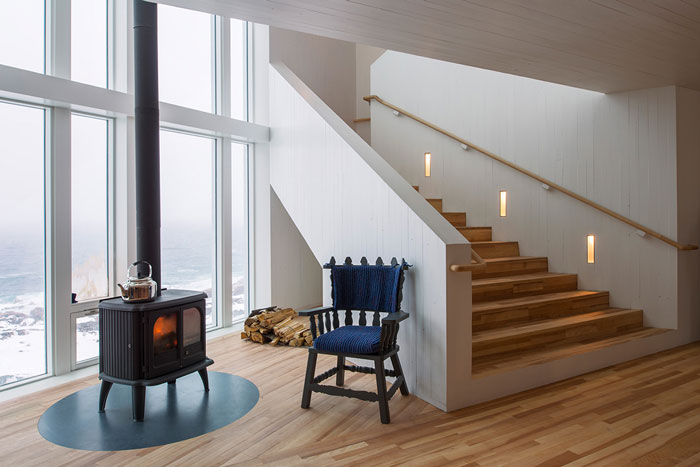 There are a total of 29 rooms, so the inn never feels crowded.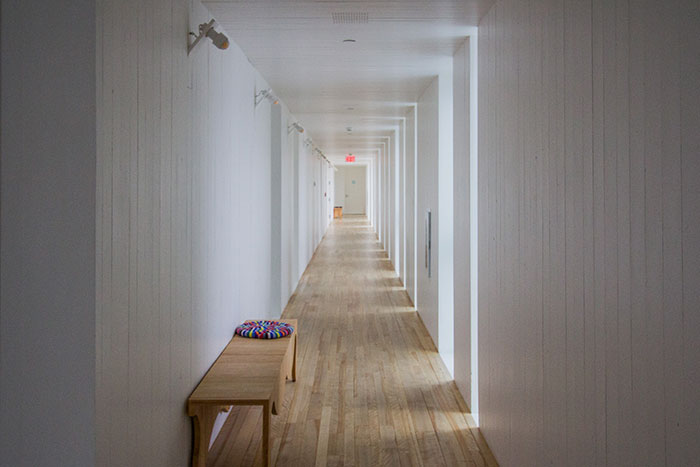 The rooms were furnished using only natural materials such as wood, cotton, and linen. The only plastic is the telephone.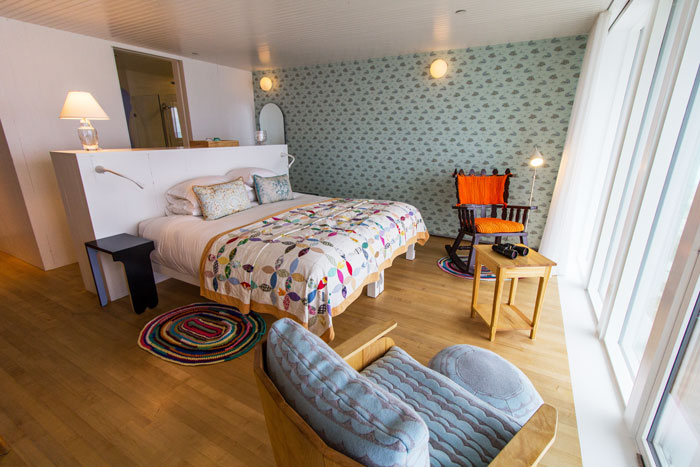 All rooms come with floor-to-ceiling ocean views. The furniture was custom made by local Fogo Island woodworkers.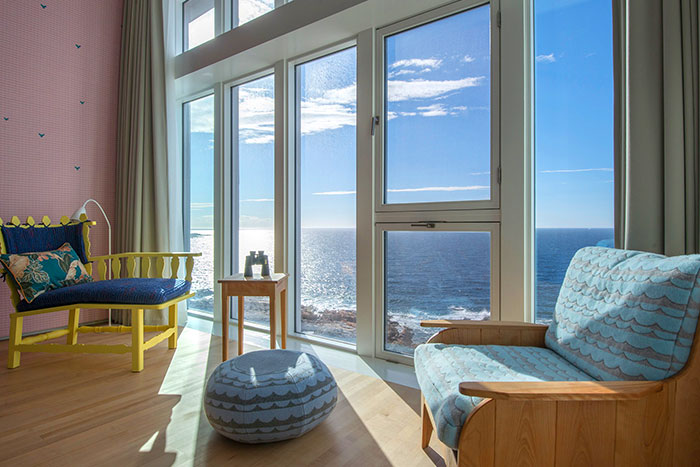 By virtue of their geographic isolation, Fogo Islanders have been building their own furniture, boats, and houses by hand since the late 1600s. In keeping with this tradition, nearly all of the furniture inside the Fogo Island Inn were made on the island.
The rooms are also decorated with fabrics and quilts handmade by local artisans.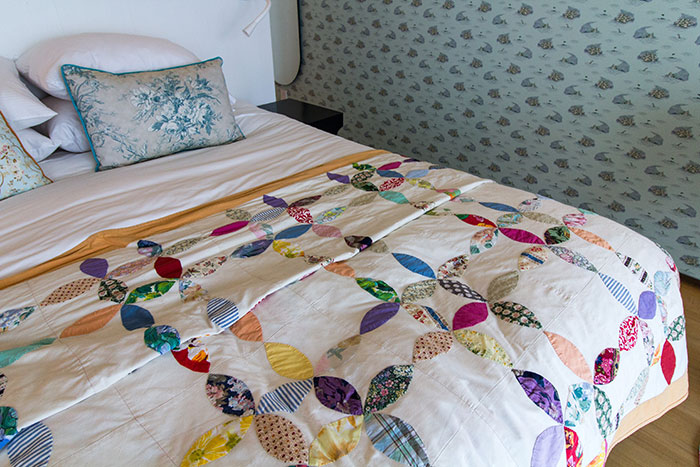 The staff pointed out who had made my blanket, and in what year.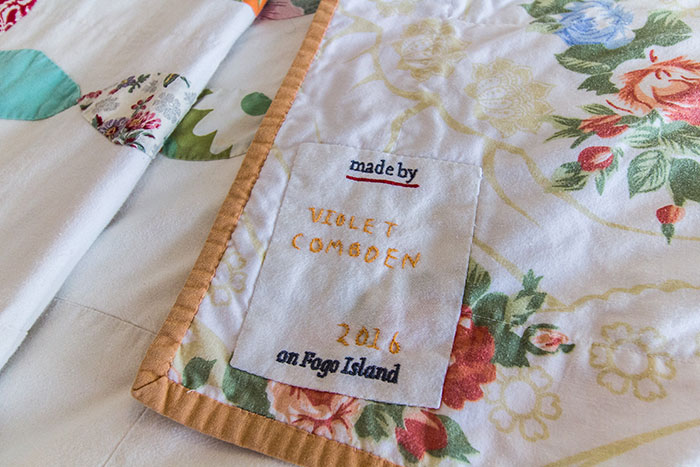 More incredibly, no two rooms at the Fogo Island Inn are decorated the same. So they all have different wallpaper, blankets, pillows, etc.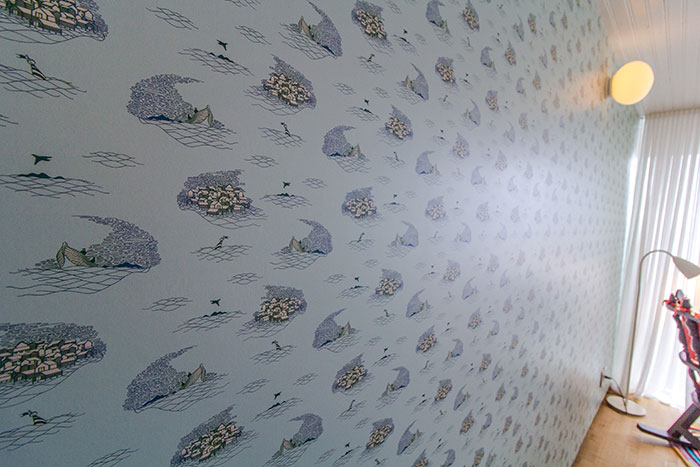 Soon, it was my favorite time of the day — lunch.
One of the inn's most iconic spaces is the dining room, with massive floor-to-ceiling windows over 20 feet high.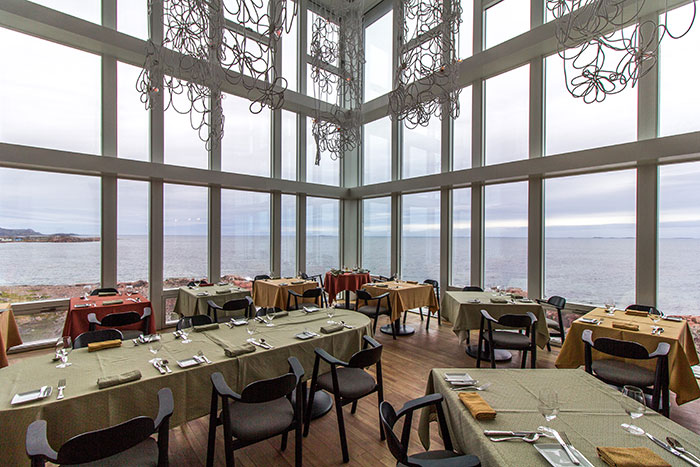 Depending on the season, you can watch icebergs bobbing in the waves or whales breaching offshore from your dining table.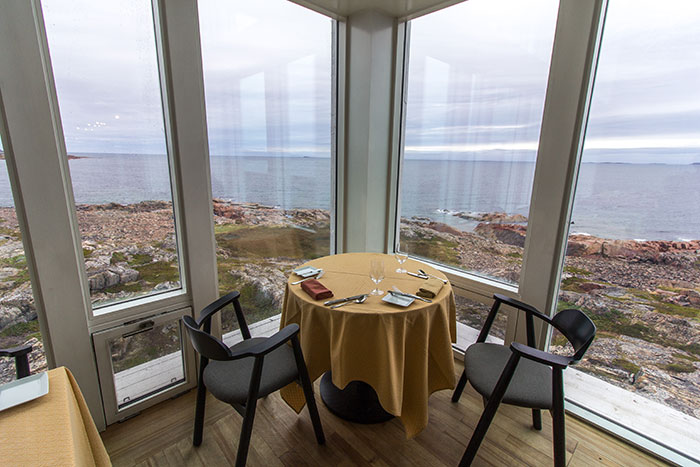 Fogo Island Inn is an all-inclusive hotel, which means that all meals, snacks, and non-alcoholic beverages are included in the cost.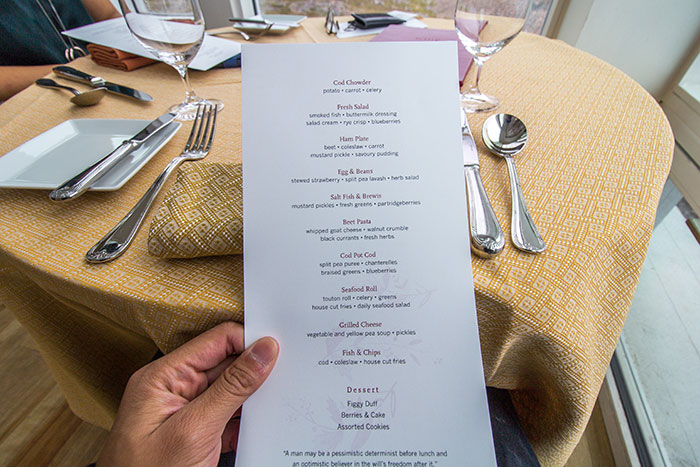 In keeping with the sustainable theme, it's all about local, organic and seasonal food at Fogo Island. Everything here is made in-house, from the bread to the mustard.
While the food at Fogo Island Inn is fabulous, the service was even better. You never had to sign a bill (even if you had alcohol). You never had to provide your room number. They remembered your name, coffee and tea preferences, and all your dietary restrictions.
I should also mention that the hotel specifically discourages tipping of any sort.
I decided to have the cod chowder, after learning that cod fish is a quintessential part of Fogo Island.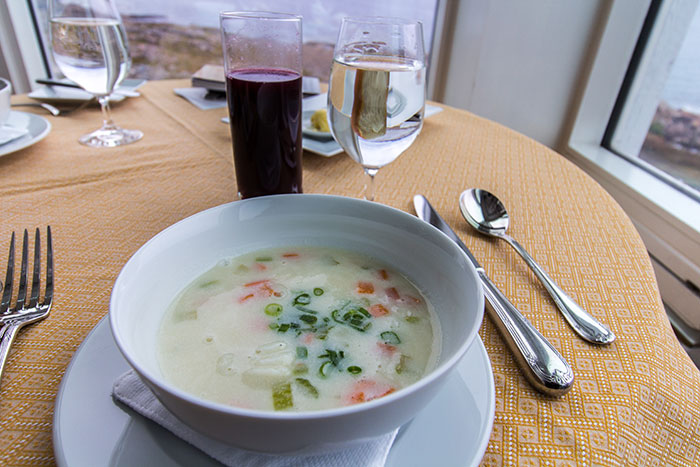 I decided to adopt a cod diet and also had the... cod pot cod.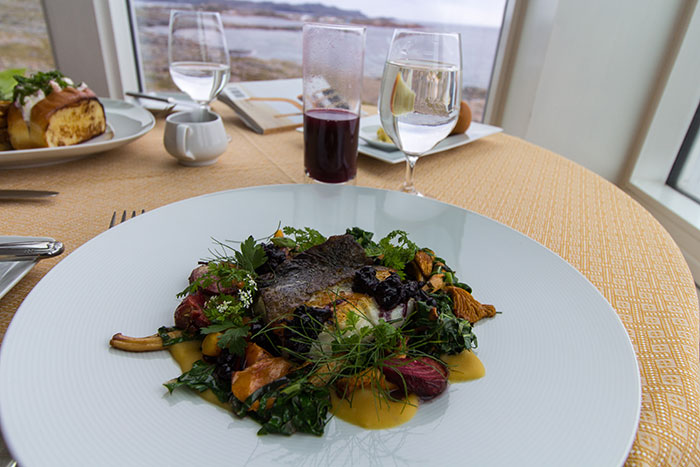 And I pretty much inhaled the food.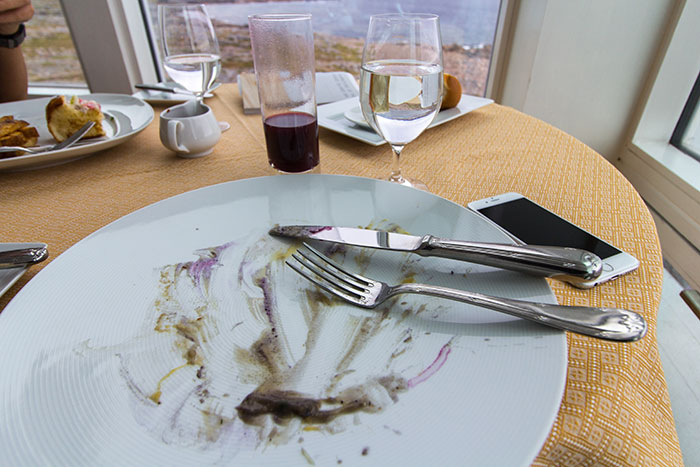 Shortly after, I was introduced to the activities coordinator.
She also pointed out the board with some of the activities available and told me to ask her if I wanted more ideas of things to do.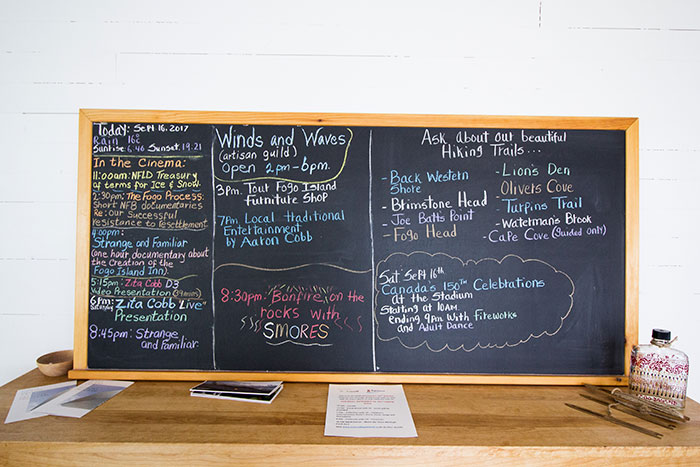 Because of its exposure, Fogo Island experiences 7 different seasons.
From March to June, the inn offers a front-row seat to massive icebergs heading down from Greenland (the very same route taken by the big fella that sank the Titanic).
In the summer season from June to August, visitors can go whale-watching and fishing on boats.
I visited in September during berry season, when one can wander the hills and pick wild berries to munch on.
All the hotel's activities aim to be as authentic as possible.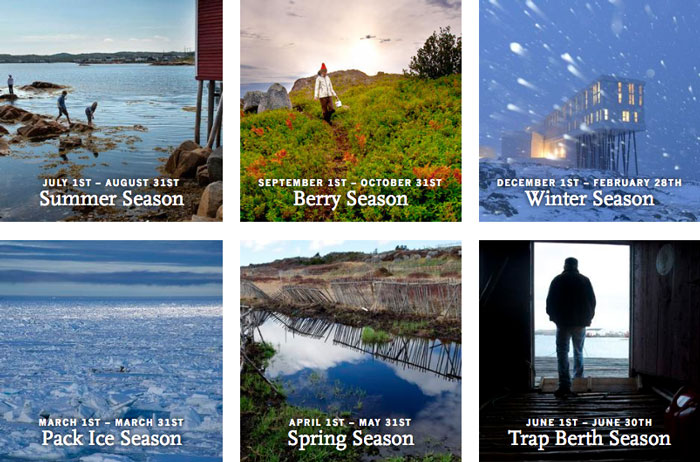 There was also a cinema in the hotel with shows a few times a day. Occasionally, the owner of the hotel shows up to give a talk.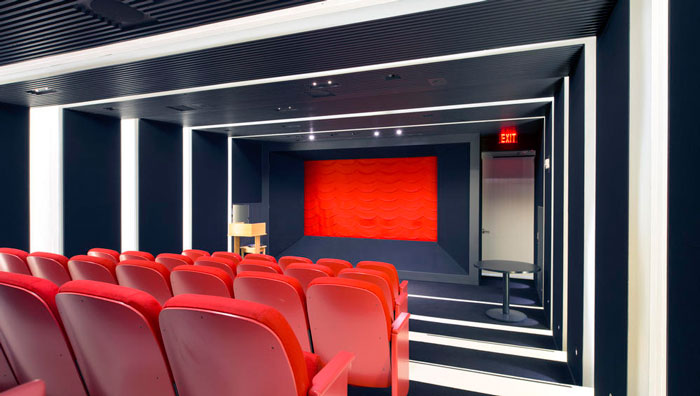 As it turns out, I hit the jackpot and she was there on the same day.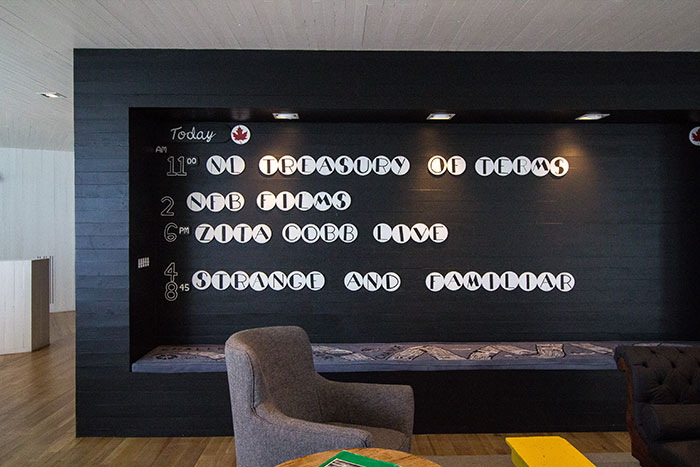 Much of the press has been focused on the inn's unique design and its remote location, but the story of how and why Fogo Island Inn was developed in the first place is equally amazing.
It is the dream of visionary Canadian tech entrepreneur Zita Cobb. The daughter of an illiterate fisherman, she was born on Fogo Island, left the island to study and made millions of dollars in fiber optics.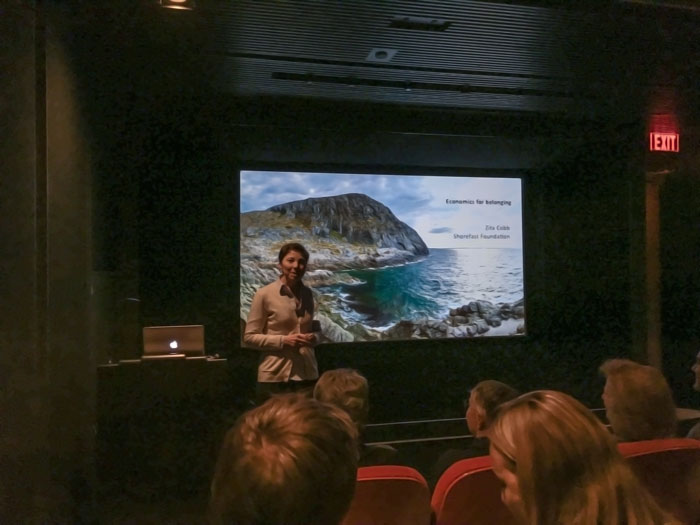 Zita decided that she wanted to go back home. By the time she returned, her island was in dire straits.
For over 200 years, Fogo Island had been a fishing economy relying on cod. Decades of international overfishing brought the cod to the brink of extinction.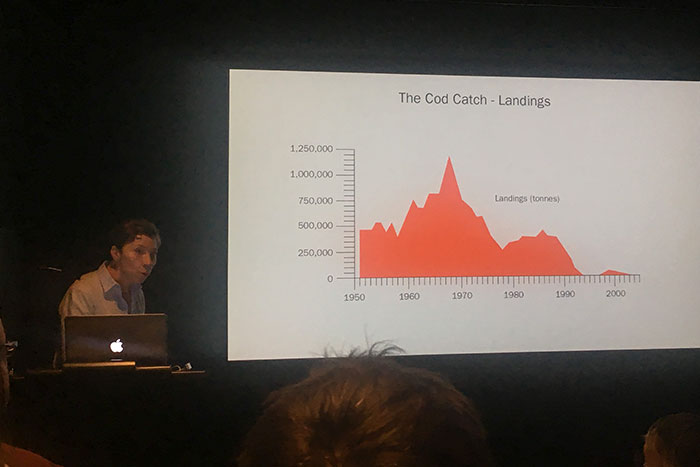 Zita came up with a daring idea to build an inn as a way to save one of Canada's oldest rural cultures.
To that end, she set about building a luxury hotel on the most barren headland. Building the inn cost $41 million. Locals thought she was mad.
Zita wanted to revive the island as a cultural destination. She designed the hotel to resemble a traditional fishing hut built on stilts.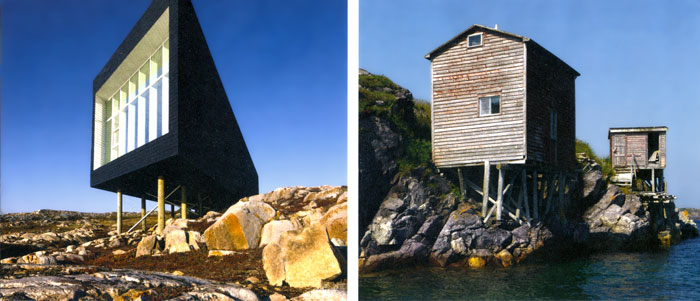 The inn was conceived as a social enterprise to support the community on the island. A business that belongs to the local people — by providing jobs and funneling all surplus profits back into Fogo Island.
As such, everything from the furniture to the quilts was made by members of the community.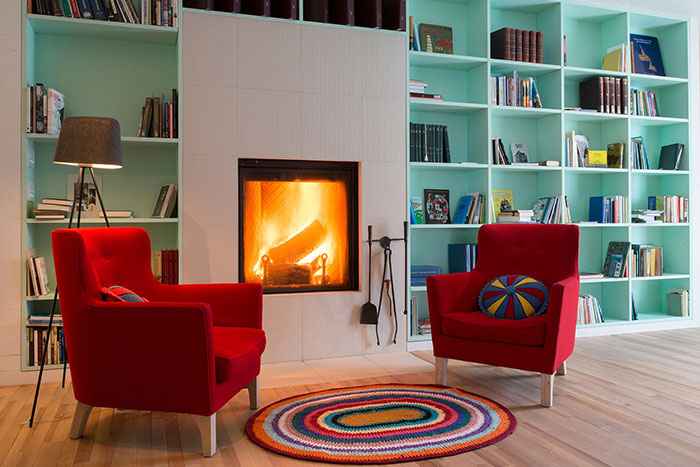 She threw out the hospitality textbook and the result is pretty amazing. The staff doesn't greet with a script—just genuine warmth and affection. I was addressed as 'Derek' and not 'Mr. Low'. You are not a customer of the inn, but a guest of the island.
Zita also pioneered the economic nutrition label.
Similar to food nutrition labels, the information provided shows how the money you spend is distributed.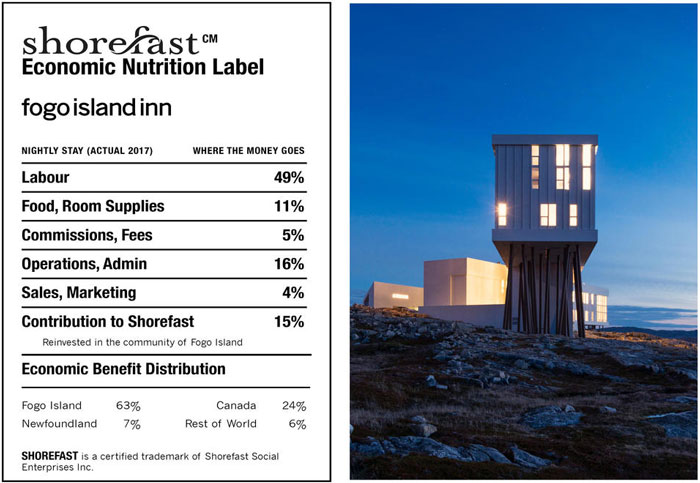 As Zita would tell me after her talk, "Many luxury properties have a charitable foundation. Our charitable foundation has a luxury Inn."
At the same time, Fogo Island Inn has picked up just about every award and accolade on this planet.

Travel + Leisure recently awarded it the Best Resort Hotel in Canada for the second consecutive year. Fogo Island Inn was also named Top Hotel in Canada by Condé Nast Traveler in both 2017 and 2018. Fogo Island Inn has also made Elite Traveler's list of the Top 100 Hotels in the World in 2018.
In addition to the inn, Zita also built four artist studios around the island.
The studios are bold geometric structures that stand in contrast to the harsh natural environment. The studios are all elevated and oriented towards the sea to provide the artist with a feeling of being unobstructed and unbound.
Artists from around the world come here to live in residence, work, and exhibit their work at the inn.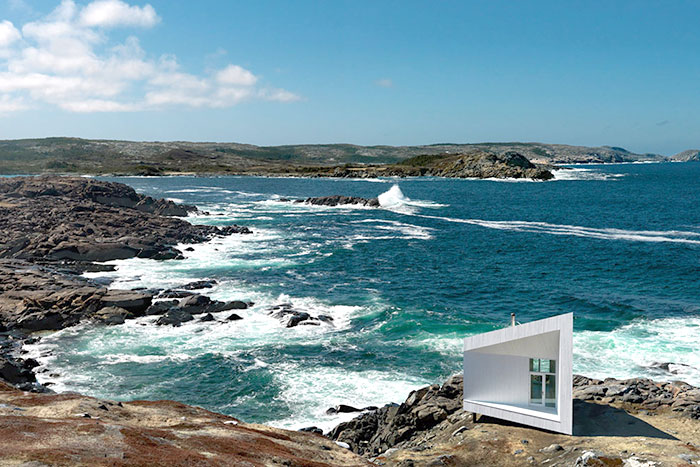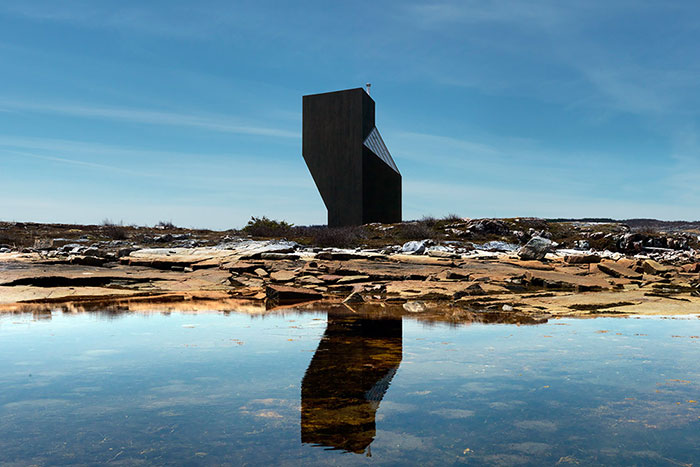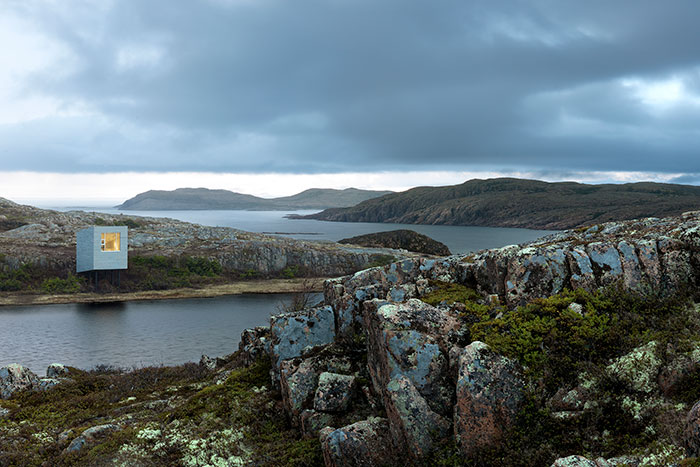 That evening, I had dinner with the most beautiful sunset.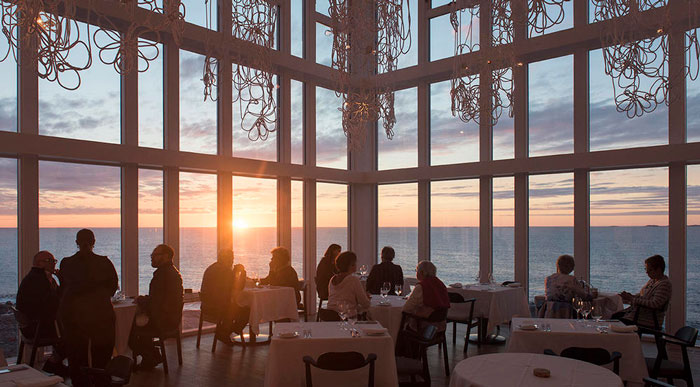 I started to appreciate the genius of Zita's revolutionary business project which revived a dying local economy.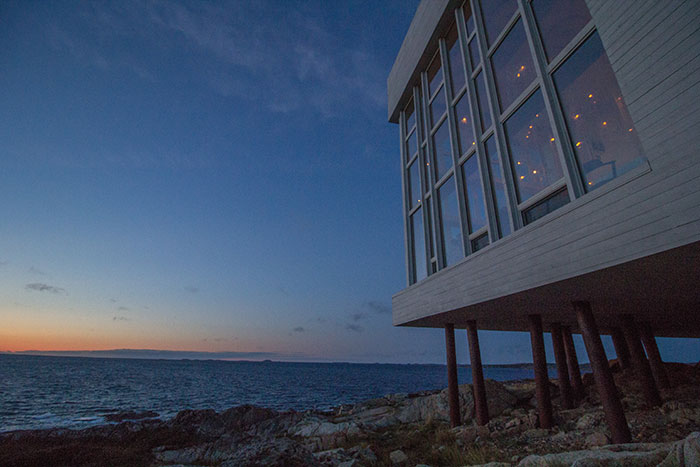 I pondered how such a hospitality model could transform communities all over the world.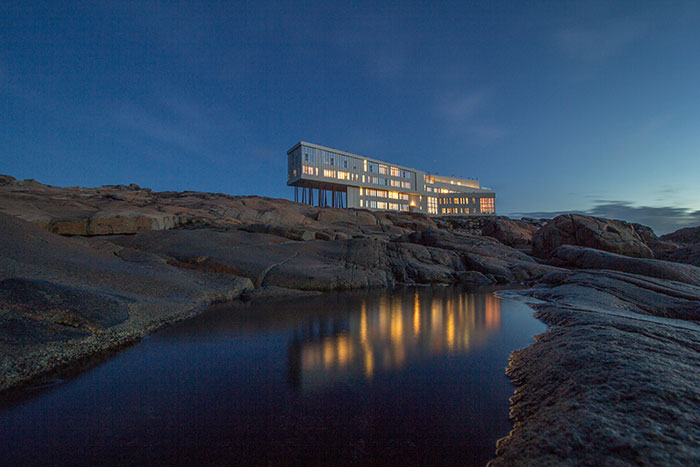 After dinner, you can ask a staff member to prepare a basket for s'mores and head outside for a campfire and stargazing.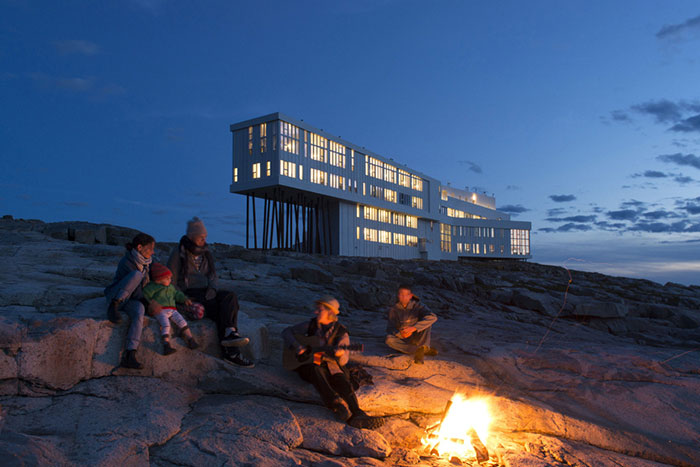 Later that night, I sat alone in the lobby to catch up on work. A staff member came up to me and said, "I saw you were working late. So I made you some coffee."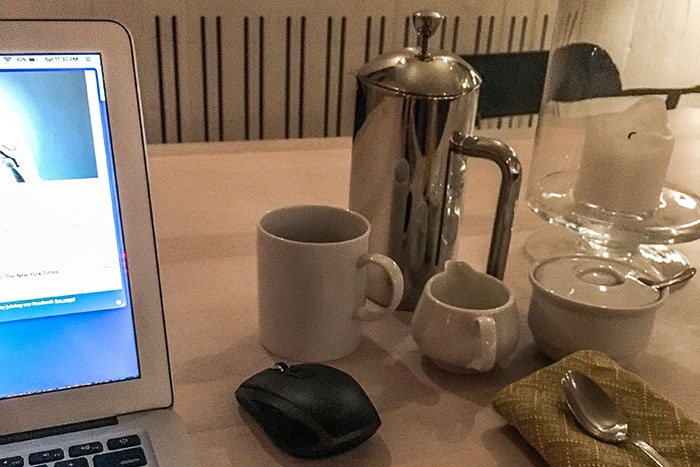 The next morning, I woke up to another pleasant surprise.
The inn offers what they call a 'daybreak basket'.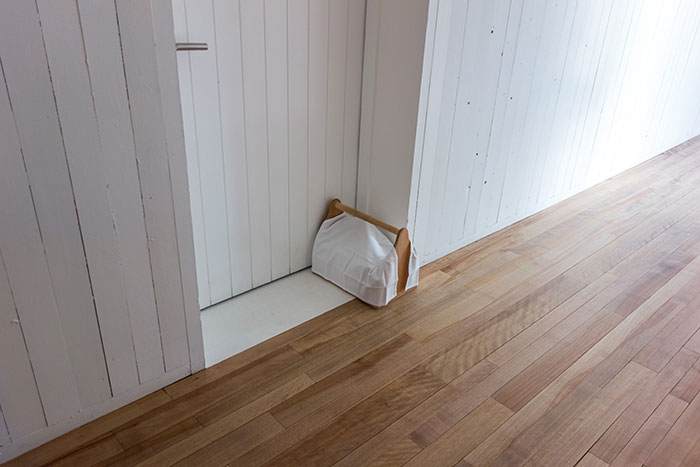 At 6 AM, they put a basket stocked with coffee, tea, freshly baked pastries outside your door. I've never seen this done before at any other luxury hotel.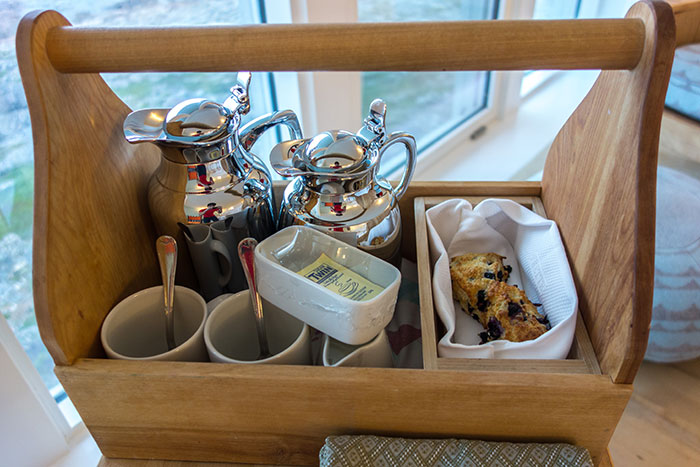 You can also head on down for a second round of breakfast at the dining room. Which I did, of course.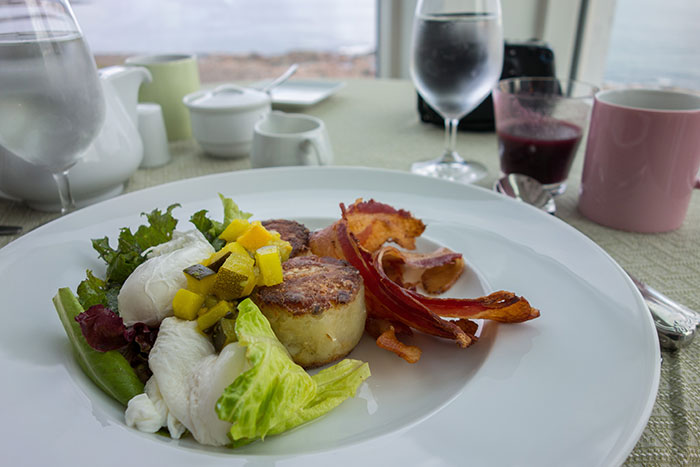 But the best part was how I was made to feel at home: all guests receive a free island orientation, where you're paired with a local who shows you around the island.
After all, there is no better way to learn about a place than to hear about it from someone who has spent their entire life there. This tour can take one hour, six hours, or whatever you'd like, really.
I got into an SUV with Roy Dwyer, my community host, who drove me around and introduced me to the life on the island.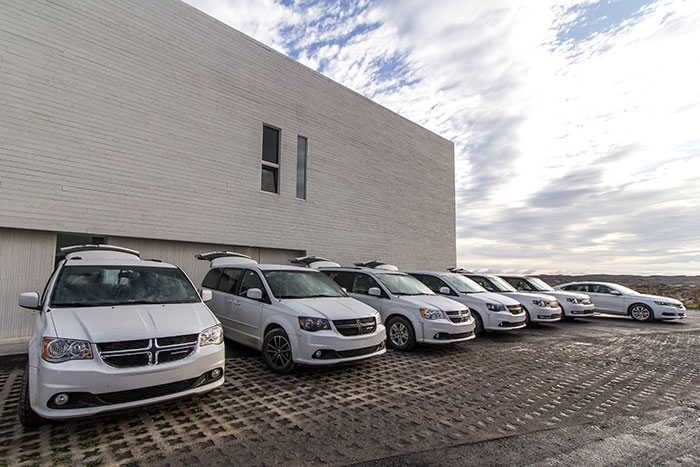 Roy is an author, poet and, of course, a fisherman. As he drove me around the island, it was cool to see him waving to everyone.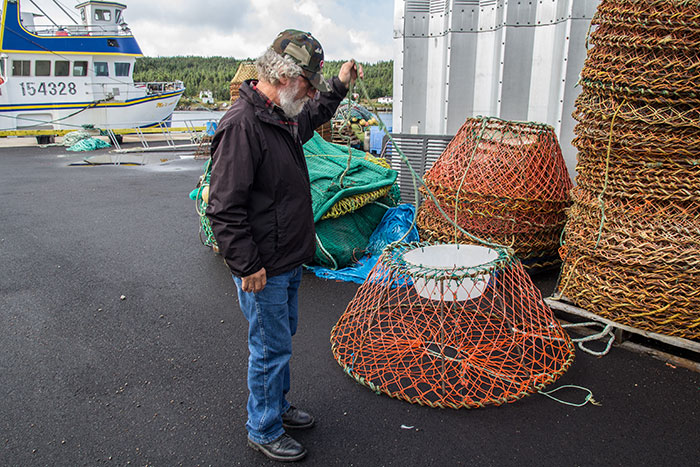 Tranquil and remote, Fogo Island has 11 communities where life focused on fishing has not changed much since the 18th century.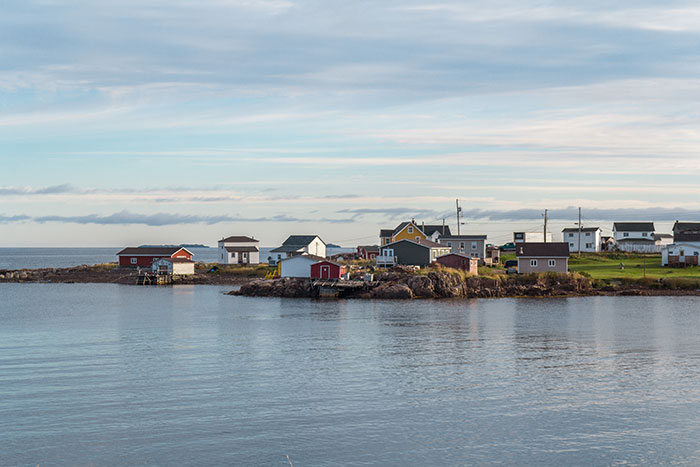 The island can be disorientating at first. Everyday conveniences are not close at hand. It's quiet—no movie theaters or shopping districts. Time is nearly suspended.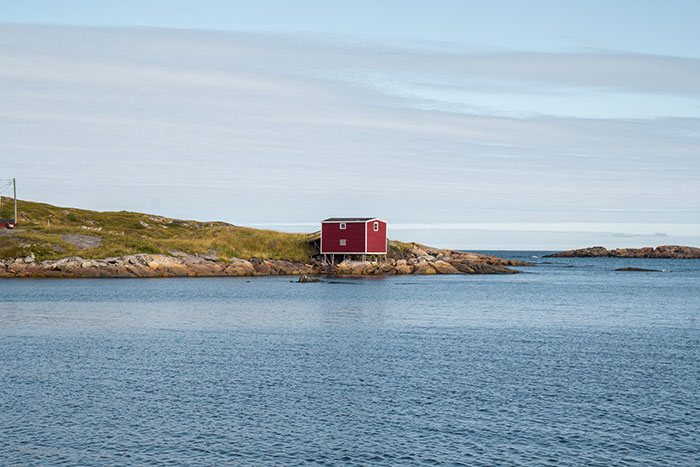 The locals have always sustained themselves from the resources of the sea and have developed a vibrant culture with a strong community.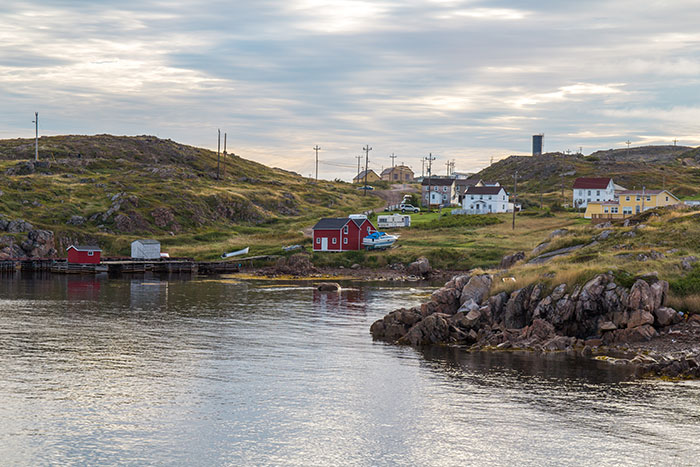 Roy's positive attitude was heartwarming and hearing about his life on the island was fascinating.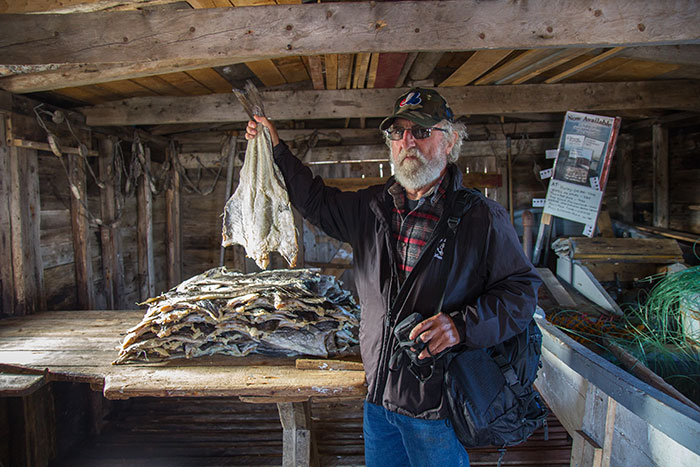 I decided to show Roy a photo I saw on the internet. He looked at it and said, "Oh, that's my grandfather's house."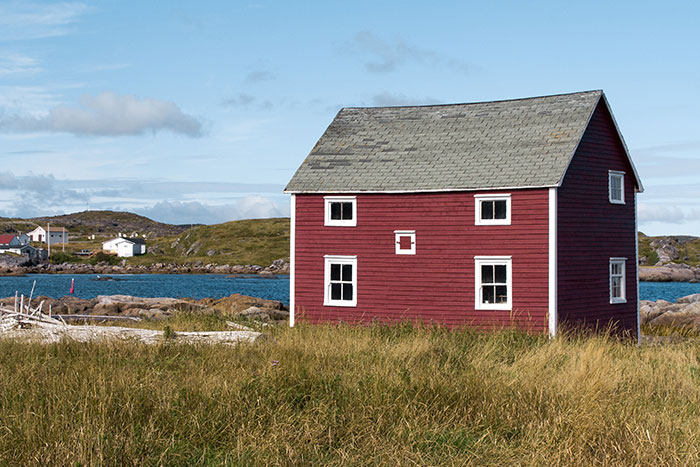 He brought me to Brimstone Head, a massive rock jutting out of the island. The Flat Earth Society believes this spot is one of the four corners of the Earth.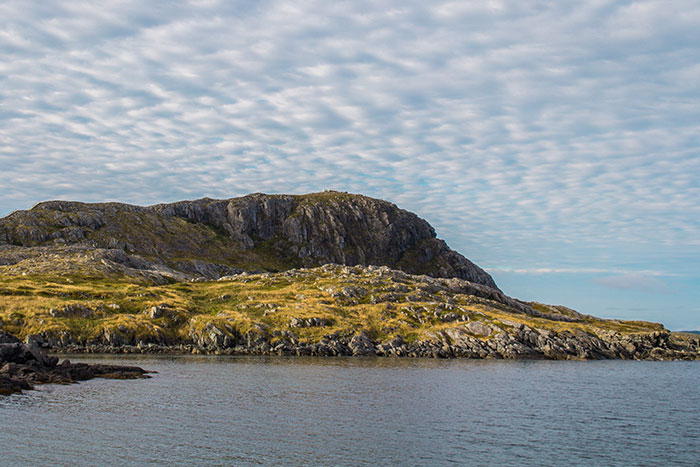 By the time we returned, I knew all about Roy's family, how they fished, and the unique history and architecture of the island.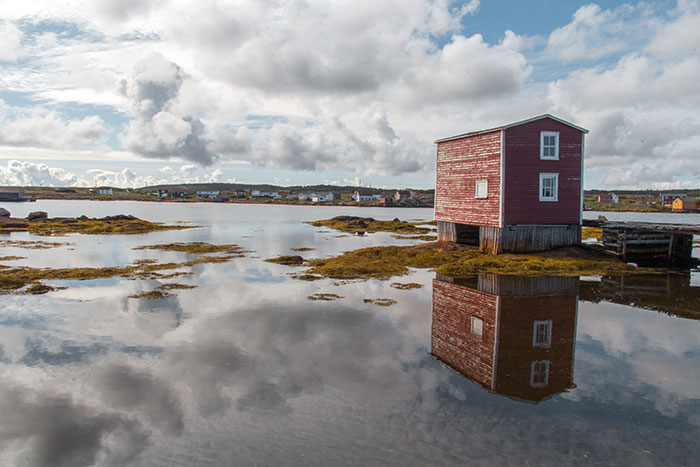 On the day of my departure, they drove me to my car. It was already in line for the ferry.
It turns out that the valet parked my car in the line the night before. There are limited vehicle spots and they wanted to make sure that I didn't miss the boat.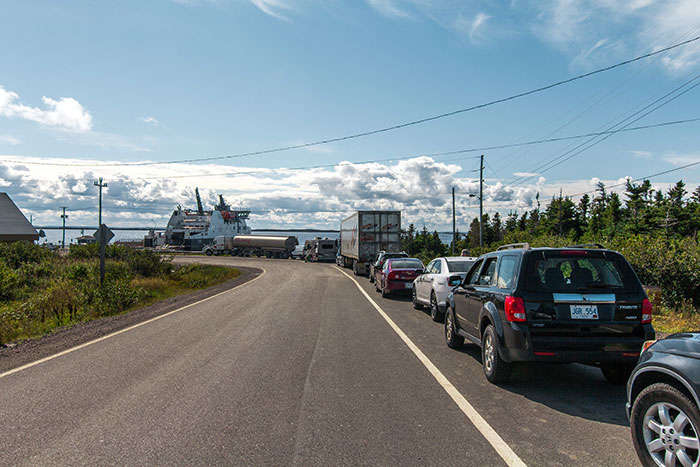 It was almost noon and I was getting hungry. In my car seat, they had left me a paper bag.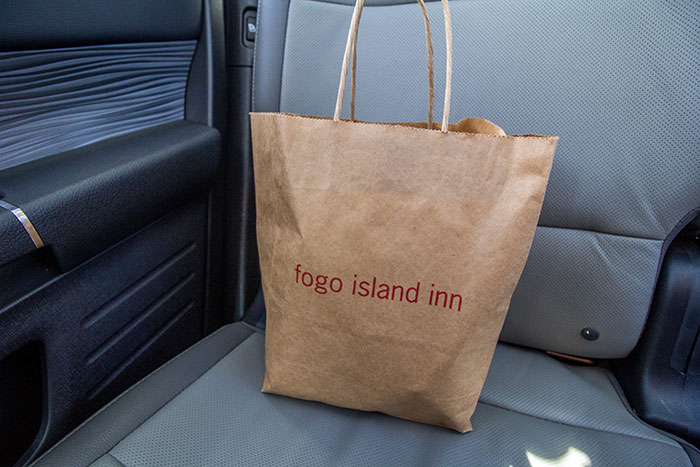 Inside it, they'd made me an "Until Soon" Sandwich. I inhaled that too.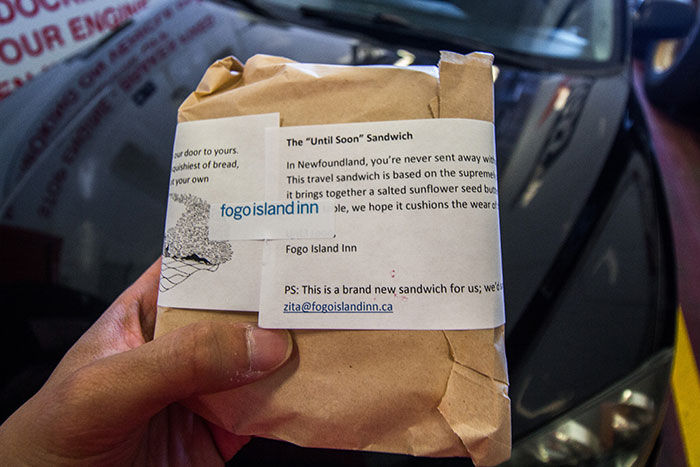 ---
Epilogue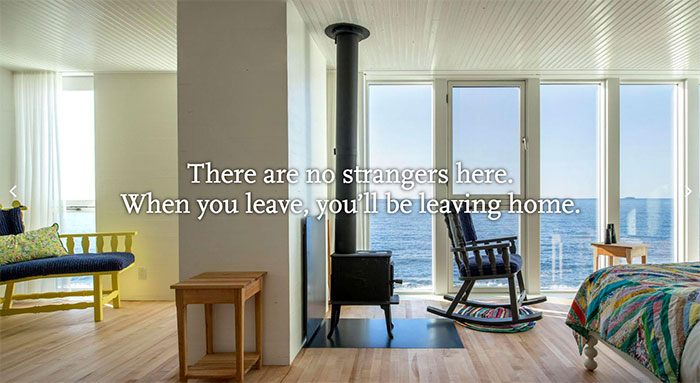 This appears on the Fogo Island Inn's website.
And it really does sum up how you'd feel at Fogo Island Inn.
For me, the experience of visiting Fogo Island felt transformative. The scenery was great, but even more so than that, the people stood out most. They all made me feel like I was a guest in their home, rather than at a hotel.
As I departed the island, the staff gave me a hug and I felt genuinely sad to leave. I asked him if there were other guests who felt the same.
"Some of our guests cried as they left," he said.
Fogo Island Inn isn't glitzy. There's no spa, no pool, and no nightlife. It's difficult to get to. It's expensive. Not to mention it's rather desolate. The weather can be tough, depending on when you go.
But Fogo Island Inn showcases a groundbreaking new style of luxury travel where even the most spoiled tourists would agree is extraordinary. It's heartwarming comfort without a whisper of pretension.
It's proper feel-good stuff. And there's only one place where I've experienced it: right here at the end of the earth.
Come soon before the secret is out.